2020 Show Exclusives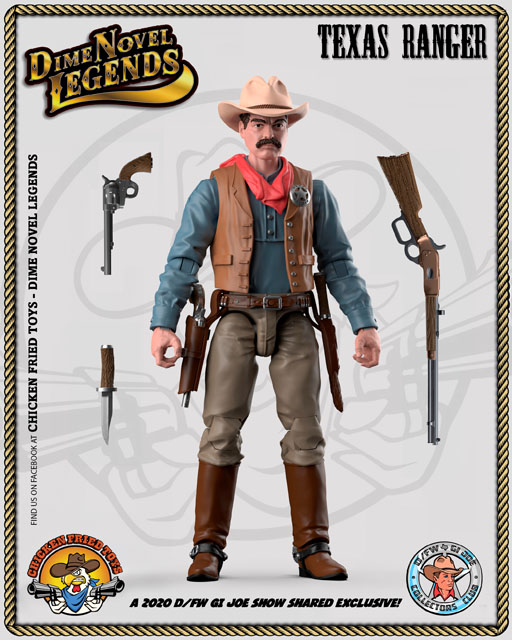 2020 D/FW GI Joe & Action Figure Show EXCLUSIVE Texas Ranger Bundle
A brand new offering slated for the 9th Annual D/FW GI Joe & Action Figure Show in June of 2020, this 3.75 scale exclusive Texas Ranger will be offered in a bundle with the event exclusive t-shirt and a two day pass to the show! In addition, you'll receive early bird privileges on Saturday morning. Please bring identification for bundle pick up at the event. See you at the show!
2020 Chicken Fried Toys Booth / Show Exclusive
The Cavalry Officer figure is available to preorder for our Summer show season, and all mail orders are scheduled to begin shipping after July 4th weekend of this year. It is also available directly in person at shows through the remainder of the year. See our Facebook page for the upcoming show schedule.
Buck-A-Roos series 2
Never fear, fans of yesteryear! CFT is back with a second helping of our Buck-A-Roos blank figures in some crazy colors, which you will be able to "pop and swap" at the waist , and even trade arms for the torso (thanks to our screw closure) so make any cowboy that you might fancy! Of special note, this round of Bucks has a bit more painted detail than the last batch, and we hope that it makes your custom cowboy figures look even more authentic!
Boot Hill Loot series 2
Katie, bar the door! Here we go with another round of Boot Hill Loot accessory sets! During this rodeo, there are even more detailed paint apps on each part, PLUS you get GEAR and ACCESSORIES in each set! Grab 'yer gunbelt, and your shootin' irons, and head 'em up and out!
Most Wanted series 2
Here is a selection of 6 of the orneriest owl-hoots ever to strap on a six-gun, and walk the dusty streets! Included are 3 of our original Kickstarter backers who have graciously decided to go one step further, and put their pug-ugly mugs out there for all of you to play with!